In 2009, Ryan and Jenn Holowaychuk took over as the new owners of Noran Printing. Ryan, who was born and raised in the printing industry, has 20 plus years of experience. He first started sweeping floors and emptying garbage cans for his dad, Louis Holowaychuk, who owned Kamloops Commercial Press. Ryan's extensive knowledge of the printing industry and his background in IT made this move the perfect fit.
At Noran Printing, we have the capability to do just about anything that has to do with Paper … and more!!! Services we offer include letterheads, business cards, stationary, envelopes, invoices, receipt books, ticket books, business forms, booklets etc.
We are also excited to be able to offer our clients a wide variety of promotional products and marketing material, such as water bottles, mugs, smart phone cases, t-shirts, hoodies, sports uniforms, and more. We are very proud to be part of the Kamloops community and thank-you for the continued loyalty of our customers.
GREAT DESIGN GETS NOTICED!
Good design looks nice. Great design is something that is unique and gets remembered. It's proven that a professionally designed corporate identity package can make the difference between a prospect making a decision to use your services or your competitors. Just think of what influences and motivates you when you are choosing to use a company's products or services. Most likely the visual elements and quality of presentation has effected your purchasing decisions more often than not. It's always important to make a good first impression. At Noran we can translate your new identity into a wide variety of marketing materials for you.
From initial design – through to printing and finishing, NORAN PRINTING provides a wide range of creative print, branded apparel and marketing solutions for our clients.
We are pleased to announce that Noran Printing has been selected as the Official Print Sponsor for the 2013 BC Seniors Games, being hosted in Kamloops August 20 – 24. Noran Printing is Kamloops largest locally owned commercial printer and now the only printer in the interior of BC to offer Print, Signage, Web Design, Embroidery and Silk Screening all in one location. Make Noran Printing your number one choice for all your marketing needs.
2014-2019
SPCA FurBall Gold Sponsor
2013-2020
KSO Official Printer
OFFICIAL PRINTER FOR THE 2010
CANADIAN GYMNASTIC CHAMPIONSHIPS
Ryan and Jenn Holowaychuk are doing back-flips over their latest news! They recently learned that Noran Printing Ltd. is the official printer for the 2010 Canadian Gymnastic Championships. "We are so proud of what the city has to offer," says Ryan, "and to host a Canadian event is an honour. We could not be happier to be a partner on an event like this."
The Canadian Gymnastic Championships, which take place May 24 to 30, 2010, are another wonderful opportunity for the Tournament Capital to showcase itself on the national stage, and Noran will be right there, supporting their community.
For more information about the Canadian Gymnastic Championships, visit www.gymnastics.bc.ca
BLAZERS
Before he could walk, Ryan Holowaychuk could skate. The new owner of Noran Printing is no stranger to strapping on the skates and hitting the biscuit around the barn, and so it's no surprise that Noran is also the Kamloops Blazers' 3 Star Selection Sponsor on Blazer Radio. Noran believes in the importance of sports in our community – and also believes in being involved in our community. Being sponsor to the 3 Star Selection is just one more way Noran is serving Kamloops and our community. See you soon – on the radio!
Click below to listen to the radio spot:
2010-2018
Mayor's Gala for the Arts Official Printer
~ 2015 Business of the Year ~
2009-2014
Kootenay Ice Official Print PartnerChefs in the City Gold Sponsor
NORAN PRINTING, "SPONSOR TO THE ARTS."
Since he was a young man, Noran Printing owner Ryan Holowaychuk has had a love of the arts, and theatre in particular. When Project X Theatre Productions first began in 2004, it was Ryan who convinced his father Louis, of Kamloops Commercial Press, to take pity on the small non-profit and offer them a printing sponsorship. It was the beginning of a beautiful friendship.
That partnership continues today with Noran supplying posters, programmes, handbills, business cards and more. Project X is incredibly grateful for the support they receive from Noran Printing – not only is their sponsorship wildly important to the theatre company, but the encouragement they get from every member of the staff at Noran as well. Thanks team – we couldn't do it without you!
BC Boys & Girls AA Basketball Official Printer

ANIMAL LOVERS
Ryan and Jenn Holowaychuk, owners of Noran Printing are also dog owners – and, as the official printer, are big supporters of the BC SPCA's Paws for a Cause. The event is an opportunity to raise awareness and crucial funds to help the BC SPCA care for animals in need in our local community. Ryan and Jenn believe in the importance of the work the BC SPCA does and are proud to contribute to this worthwhile event.
Click the tabs below to read each article
REPORT ON KAMLOOPS – INKING THE RIVER CITY
Ryan and Jennifer Holowaychuk believe in Kamloops. So much so, it's why the native Kamloopsians chose to take over Noran Printing in February, an established name in the printing business in the city for 30 years. Ryan, a third-generation printer whose family owned the Kamloops Commercial Press, wanted to continue in the industry, so he jumped at the chance to buy Noran only a few short months ago. "Printing is in my blood," he said. And so is the city. Ryan, a minor hockey coach, is quick to point out Noran is one of only two locally owned print shops in Kamloops. From its Dalhousie Drive location, Noran can take pretty much any idea from concept to design – from brochures to business cards. "Every client out there has something we can do work for," Ryan said. Not wanting to mess with a good thing, the couple has only made small changes to the operation. They've revamped the company's logo and designed a new website, but have decided to stick with the name, which is a combination of the names of the original owners – Rance and Norma. While there's been plenty of talk about the struggling economy, Noran hasn't felt the effects. "Our industry hasn't seen a big hit," Ryan suggested. In fact, the biggest challenge for the company's new owners is keeping up with technology. However, Ryan is willing to learn whatever is necessary to continue to give the long-established list of clients the best service. Though customers are being more discriminating in these times, Jennifer chalks up the growth to the need for businesses to their information out to customers. It's something that Noran has done well, and a formula for success the company's new owners hope to continue in the future. Kamloops This Week 2009 Progress Report
Above inset: Ken Crockett (Rapid Renovations), Ryan Holowaychuk (Noran Printing), Warren Lewis (Noran Printing) and Larry Gallaher (Kamloops Roto Rooter)
Noran Printing was happy to be involved in the 2010 Rotary International Golf Tournament again this year. The weather wasn't the best this year – but a good time was had by all!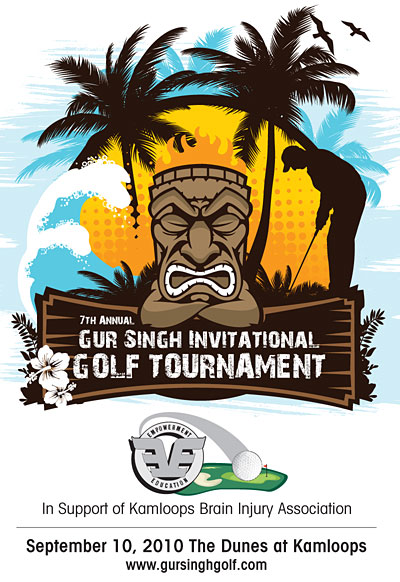 Noran Printing is a PROUD Gold Sponsor of the 7th Annual Gur Singh Invitational Golf Tournament. For more details go to www.gursinghgolf.com
Noran Printing is a PROUD Sponsor of the 15th Annual Kamloops Cowboy Festival. For more details go to www.bcchs.com
EMPLOYMENT OPPORTUNITIES AT NORAN PRINTING
Are you awesome at what you do? Do you strive for excellence? If this is you, then contact us to discuss how you can join a great family committed to excellence in the workplace and service in the community Noran Printing is looking for Sales associates in the following regions:
100 Mile House
Prince George
Williams Lake
Cranbrook
Trail
Kelowna – Vernon – Penticton
Applicant must be enthusiastic, self-motivated and have strong computer skills. Knowledge of the print industry would be an asset. Driver's License required.
Please apply via email to Ryan Holowaychuk: ryanh@noran.ca